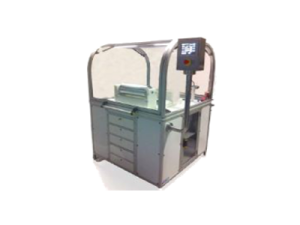 The Lab Unit is a versatile machine for a pre-industrial production. It allows operator to produce nanostructured electrospun membranes having A3 dimensions.
The structure is made from anodized aluminum profiles and the process area is provided with transparent polycarbonate panels. The theca rests on four adjustable legs. It is also equipped with 2 drawers and 1 cabinet for the storage of glassware and accessories.
The work surface, made of solvent-resistant material, is placed at a height of 900 mm to facilitate the working and maintenance operations. The machine is equipped with two ergonomic openings that allow the operator access to both side. The machine is provided with an internal light for the operations of preparation and a dedicated lamp to make more visible the process of electrospinning.
The machine has been designed in compliance with the regulations in terms of safety and it is equipped with:
– Exhaust ventilation predisposition;
– Automatic safety switch for openings;
– Emergency stop;
– Walls shatterproof.
The process area of the Lab Unit is equipped with three main units:
Feeding unit of the polymer solution, in the standard version, is constituted by an infusion pump able to handle four syringes;
Spinneret unit for electrospinning, a linear sliding system with a reciprocating motion housing up to 4 needles,
Collecting unit of the nanofibers is constituted by a rotating interchangeable drum (different diameters are available) whose rotation speed can be varied to obtain the alignment of the nanofibers.
The combination of the linear sliding system for the electrospinning process with the rotation of the collector allows a homogeneous deposition on the entire surface of the drum, preventing preferential deposition and accumulation of nanofibers with inhomogeneity in the thickness of the membrane.
The high voltage supply is located inside the electrical panel, and the high voltage wiring is inside the structure to minimize losses and make the machine extremely reliable and secure.
On demand it is possible to conncet a climate system to perform Humidity and Temperature in the electrospinning machine.
---
TECHNICAL DATASHEET 
Frame
| | |
| --- | --- |
| Dimensions | 1800x1200x1200 mm |
| Work volume | 1,6 m3 |
| Weight | 250 kg |
| Frame material | Anodized alluminium |
| Work surface material | POM |
| Panel material | Polycarbonate |
| HMI | Touch-Screen panel |
| Machine Control | PLC |
| HV Supply | 0 – 40kV |
| Certification | CE |
Collettor
Drum
Min Diameter 75mmCollecting area around90 cm2
Max Diameter 150mmCollecting area around 190 cm2
Lenght
405 mm
Drum material
Alluminium
Max speed
4000 rpm
Motor
Brushless
Motor control
PLC
Chassis collector material
POM
Sliding Spinneret
| | |
| --- | --- |
| Min needle's number | 1 |
| Max needle's number | 4 |
| Distance between spinneret and drum | 0 – 350 mm |
| Max stroke | 420 mm |
| Max sliding speed | 2 m/min |
| Min sliding speed | 0,1 m/min |
| Motor | Brushless |
| Motor control | PLC |
| Chassis spinneret material | POM |
 Feeding system
| | |
| --- | --- |
| Syringe's number | up to 4 |
| Syringe volume | 1ml a  50ml |
| Min flow rate | 0,013 μl/hr |
| Max Flow rate | Syringe of 1 ml – 1.33 ml/minSyringe of 50 ml – 44.283 ml/min |
| Motor | Stepper |
| Accuracy | ± < 0.5% |
| Riproducibility | ±  0.1% |
Exhaust ventilation system required
| | |
| --- | --- |
| Max air flow rate | 180 m3/hr |
| Min air flow rate | 60m3/hr |
| Hole diameter | 100mm |
Download Lab Unit Documentation